4 tips for choosing the shower for your pool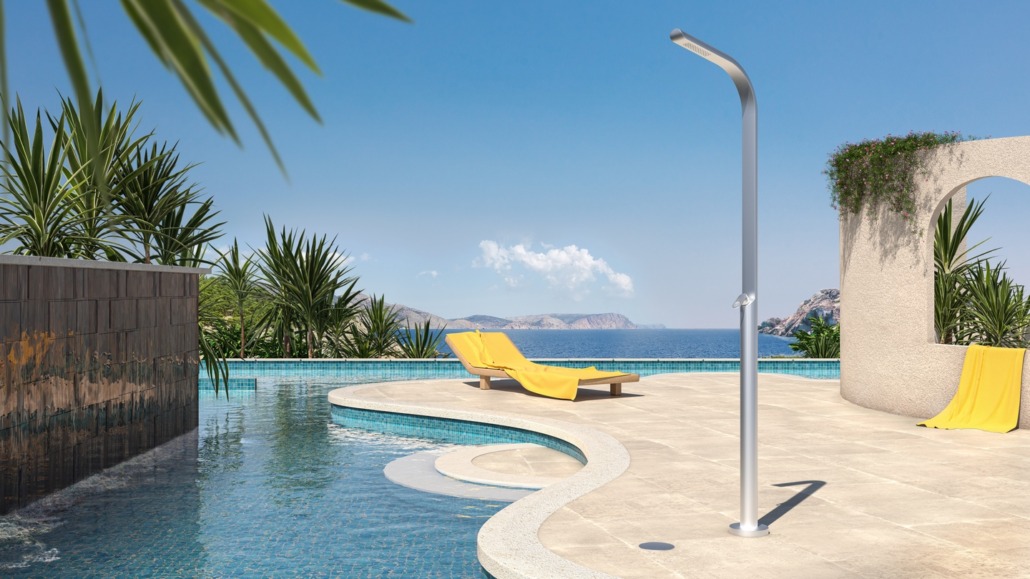 Selecting the shower for your pool is a decision that requires attention and attention to detail. It is not only a functional element, but also a design element that must integrate harmoniously with the surrounding context.
Pool shower: how to choose the right one
The keyword in this choice is research. Research of shapes, dimensions, concepts and contrasts that create a unique and suggestive external environment.
In this article, we'll explore four valuable tips to help you select the perfect shower for your pool. Let's start!
1. Consider the style of your pool
First of all, take a close look at the shape and size of your pool. A square pool will require a shower with cleaner, more geometric lines, while a round pool is best paired with a shower with soft, rounded shapes. Evaluate the overall style of your pool area – modern, elegant, classic or country – and look for a shower that matches your favorite theme. The coherence of style between the shower and the swimming pool will help create a harmonious and captivating environment.
2. Create contrasts with care
While contrasts can be fascinating, it's important to use them carefully. Avoid choosing a shower that is too dissimilar to the rest of the environment, as this could create a negative and disharmonious impact. If your pool has a minimalist and modern design, opt for a shower with a similar structure. The secret lies in finding a balance between the different and the complementary.
To avoid creating a disharmonious environment it is essential to see the showers in practice. Sayduck can help you with this, the augmented reality app that allows you to explore the various models of Inoxstyle showers in 3D.
3. Quality materials for durability
As the shower will be exposed to the outside elements, it is essential to evaluate the quality of the materials. Opt for weather resistant materials such as AISI 316L stainless steel, which offers greater durability. Also choose materials that are easy to clean and maintain, as the shower will be used frequently during the summer season. A shower made with quality materials will not only enhance the overall aesthetics but also ensure a pleasant and safe experience.
4. Consult a qualified professional
To ensure you make the best decision and get the most out of your pool shower, don't hesitate to consult with an experienced architect or designer. A trained professional will help you develop a global view of the environment, taking into account both technical and aesthetic considerations. With their experience and expertise, they will be able to suggest the options that best suit your needs, guaranteeing a successful end result.
A choice not to be underestimated
The choice of shower for your pool should not be underestimated. Take the time to explore the options available, evaluate the style of your pool and carefully consider the best materials for a durable product. Don't forget to balance the contrasts and, if necessary, be guided by an experienced professional.
With care and attention to detail, you can create a charming, functional and elegant outdoor environment.
https://www.inoxstyle.com/instyle/wp-content/uploads/2023/03/dreamyachtvelvet-imgfull-1.jpg
810
1440
inoxstyle
https://d271v9vq1td42f.cloudfront.net/instyle/wp-content/uploads/2018/02/IS-logo-2018-01-R-340x156.png
inoxstyle
2023-07-28 19:11:47
2023-09-06 15:27:23
4 tips for choosing the shower for your pool