The elegance of sinuous organic lines and carbon fibre structure combined with the splendour of marine stainless-steel results in an agile and imposing shower. The powerful nature of the composite material, in harmonious contrast with the stainless gloss of the integrated showerhead, bestows a new and brilliant balance to the successful distinction between shape and construction, style and efficiency, technology and nature.
An outdoor nautical shower made of carbon fibre and marine grade stainless steel, featuring a multiple process, nautical grade, manual mirror polish finish. A perfect synthesis of design, artisan craftsmanship, and high-quality materials, created thanks to Inoxstyle's experience in luxury yachting.
Elegance and technology

Carbon fibre

We have used a lightweight, durable material with sublime texture and design for an unmatched product. The carbon fibre selected is normally used in aeronautics and motorsports thanks to its unique properties; this choice gives this product a technical look and at the same time a luxurious elegant finish.
Shiny and durable surface

Nautical grade finish

Our steel is polished manually through a fully artisan process that is repeated in multiple sequences to ensure that all of our products include the highest quality finish: nautical grade. This attention is why our products remain clean longer than others and are not affected by limestone.
Download
DREAM CARBON
Download the photobook to consult this model's detailed information whenever and wherever you want.
The shower's technical information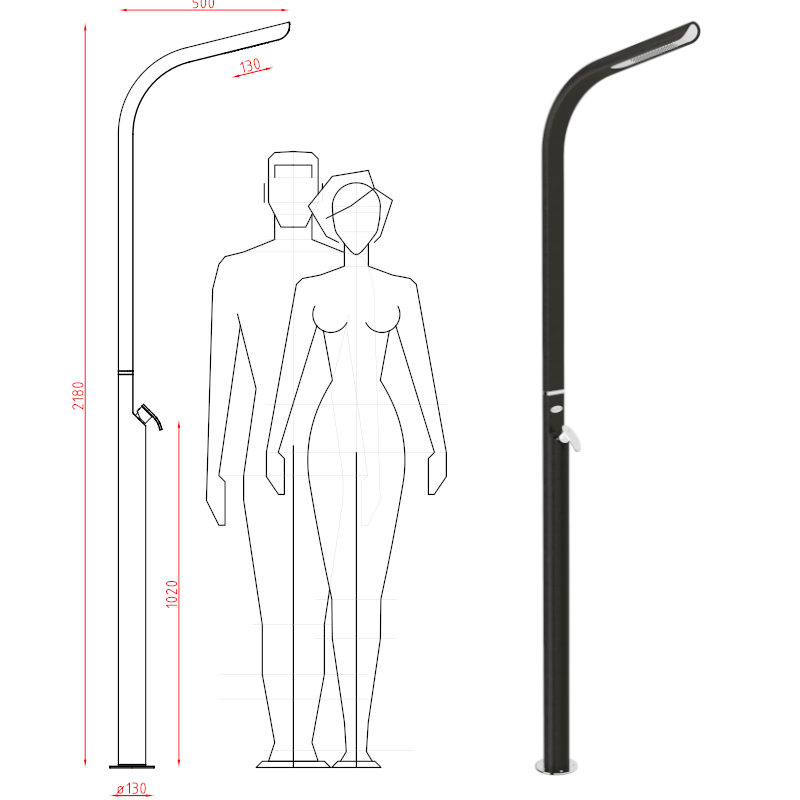 2
Faucet, mixer faucet, and other options
4
Mounting for pools or beaches
Tecnical Specifications
Shower body made of carbon fibre
Exclusive design water control, in hand-polished marine-grade AISI 316L stainless steel
Showerhead with anti-scale and anti-obstruction silicone rubber
1/2'' water inlets from below the pavement with quick-connect fittings
Main body diameter 80 mm, height 220 cm, showerhead height 210 cm
Faucets
Faucet with exclusive design knob handle IS316 (single inlet, cold or premixed water)
Faucet Mixer with exclusive design lever IS316 (hot/cold water)
Options
Handheld showerhead with diverter switch
Mountings
Floor mounting with finishing cover that conceals mountings underneath
Exposed mounting with AISI 316L stainless steel lug nuts
Surface Finish
Twill Carbon Fibre, with coating and anti-UV treatment
Accessories
Protective cover
Velvet Steel: A surprising, resistant and unalterable aesthetic finish.
Velvet Steel is an exclusive finish by inoxstyle. This finishing is obtained from the mirror-finish through an additional treatment that radically changes its aesthetic characteristics.
The object is first mirror-polished with multiple hand-made passes in order to eliminate any surface imperfections and smooth the surface uniformly, then, with a particular process, inside special chambers, the surface is blasted with a calibrated jet of glass microspheres.
Unlike other abrasive treatments used in satin finishing, glass microspheres have the advantage of mantaining the chemical composition of the stainless steel surface which keeps its characteristic beauty and durability.
The resulting surface has a particular texture with non-glossy reflections and an innovative aesthetic presence.
See it in your home
YOUR SHOWER IN "AUGMENTED REALITY"
Thanks to the app for Androids and iPhones, you can now visualize showers in 3D in the spaces where they will be placed. Move them, rotate them, and immediately learn if the size and style is the most suitable for your pool or yacht. You can experiment with possibilities until you discover the perfect match. The app is also used by designers and architects to illustrate quickly a mock-up of future shower installations to their clients.
REQUEST ADDITIONAL INFORMATION AND PRICES