View the Inoxstyle outdoor shower in 3D (Augmented Reality App)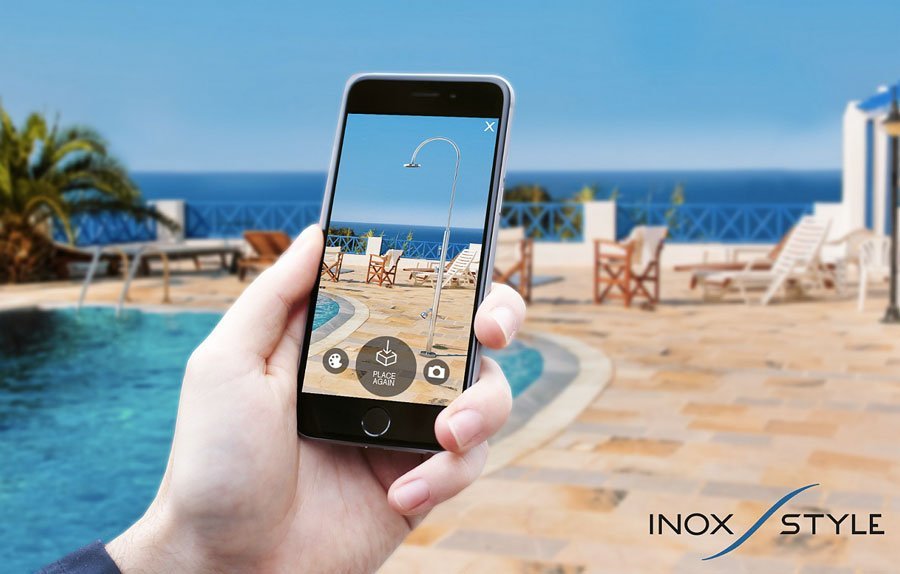 Did you know that you can see Inoxstyle outdoor showers in augmented reality? That's right! Through Sayduck – an app for Android and iPhone – you can discover the shower by interacting with a 3D model in augmented reality. You can therefore see how it adapts to the decor of your environment before buying it.
Why use augmented reality before buying the outdoor shower?
Sayduck is an innovative platform that offers the possibility of viewing showers in your own environment in augmented reality. Thanks to this technology, you can therefore check whether the size and style of the shower matches the pool, the garden or the yacht. This allows you to avoid errors of judgment and to find the best position for the shower.
On each product sheet on inoxstyle.com, you can access Sayduck and use this advanced feature. Once the desired shower has been selected, it is possible to discover all its details (in 3D) and virtually position it in the environment. This offers a realistic experience and allows you to evaluate the aesthetic and functional aspect of the shower.
Here, for example, we show you the Dream Yacht in augmented reality.
Interactive 3D models of showers also for Designers and Architects
This advanced technology offers numerous advantages, not only for individuals but also for professionals, such as designers and architects. All professionals in the sector can in fact use the 3D models as a consultancy and sales tool. Showing how the shower will blend into their environment is a valuable service they can provide to their customers. All this thanks to a simple app.
With 3D models of Inoxstyle outdoor showers, you can make safer and more informed choices, in line with your needs and avoiding costly misjudgments.
Discover our outdoor showers on inoxstyle.com!
https://www.inoxstyle.com/instyle/wp-content/uploads/2023/07/app-3d-doccia-esterno.jpg
574
900
inoxstyle
https://d271v9vq1td42f.cloudfront.net/instyle/wp-content/uploads/2018/02/IS-logo-2018-01-R-340x156.png
inoxstyle
2017-01-21 10:41:46
2023-09-06 15:29:01
View the Inoxstyle outdoor shower in 3D (Augmented Reality App)